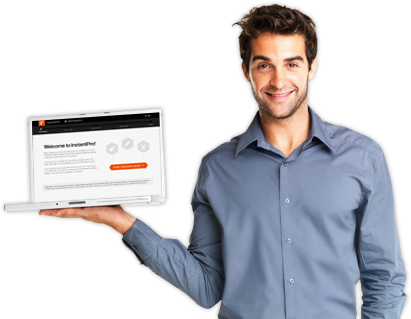 INSTANTPRO
WEBSITE BUILDER
available exclusively at Freeola & GetDotted!


Whether you're looking to make a personal or business website, with InstantPro you'll create a web site in minutes. Even with no coding knowledge or design skill, you'll have a great-looking, responsive website!
There's nothing to download or install. You can just drag-and-drop page elements within the InstantPro Web Builder using our simple page editor (or choose one of our pre-configured easy page layouts) and we'll do the rest. We even make it easy to add images and video. The price includes unlimited hosting and promotion in our website directory, providing everything you need to publish and promote a website in one, simple package.
---
A fully responsive website builder
Our website builder themes are mobile-responsive, meaning your site will look great on computers, tablets and phones! Making a mobile-friendly website has never been easier.
---
Just £3.49 per month
(excluding VAT - charged quarterly) or totally free with any of Freeola's cheap broadband packages.

Money-back offer
We're sure you'll love InstantPro, but if you don't, we'll give you your money back! Find out more.

Build a website in
just 5 minutes

It takes just 5 minutes to get your first web page created and published with InstantPro.

Unlimited Web Hosting included

Create unlimited pages, upload unlimited images, even receive unlimited visitors.

Get traffic with Free Website Promotion

Promote your website in our free website directory and get a boost in website traffic.
Add popular features
InstantPro lets you to embed third party web tools into your website, so you can make money from advertising, add shop buttons, calendars, analytics and loads more.
---
Browse Freeola Hosting:
Easy Website Builder
---
Website showcase...
Here's a handful of customer-built websites using Freeola InstantPro.
The Pretty Cake Company specialise in creating beautiful and bespoke wedding cakes.
Using InstantPro to showcase a selection of their best creations, with over 100 high quality images, they have made fantastic use of the InstantPro Gallery page type in particular.
theprettycakecompany.com
---
---
Just £3.49 per month
(excluding VAT - charged quarterly) or totally free with any of Freeola's cheap broadband packages.
Money-back offer
We're sure you'll love InstantPro, but if you don't, we'll give you your money back! Find out more.

More Details About InstantPro Website Builder
Make a Website, Quickly & Easily
Have you ever wanted to be the webmaster of a stunning web site? Well now you can have a professional, sleek looking personal website - or small business web site of absolutely any size, type and style - using the Freeola Instant Web Site Builder. You won't even need to employ a web designer with this cheap web design alternative as you can make your own website and host it too, with InstantPro's inclusive, unlimited hosting.
You don't need any experience to create your own website. With our simple, intuitive interface, you can be up and running in just a few minutes. It doesn't get much easier!
Great Website Templates, Pages & Features. The Best DIY Website
With great, easy web designs and page types available, you can customise your website template to look exactly how you want. Upload your own logo (or use our handy logo creator), choose your web design template and colour scheme, upload images and create your content. There are absolutely no limits either, so you can create as many pages and upload as many images as you want while feeling safe in the knowledge that all hosting fees are included free of charge. All of the features with InstantPro come as one package, allowing you to design your website and put it online using InstantPro Website Builder - without any other software, extra costs or additional services.
There are loads of Page Types in InstantPro, so you can do almost anything with your website. Start an Online Shop, read customer comments in your Guest Books, add Contact pages (with custom forms), create timetables with the Event Schedules, display your favourite links on Links pages or start an Online Blog. Plus, upload as many images as you like; store, manage and share photos with your family or the whole web with an Online Gallery.
You can use any of the Page Types on their own, combine multiple page types into one page, or create individual pages as part of a larger web site - whatever you find best!
Make Your Own Website, Edit Settings, Colours & Add New Features Easily
Once your site is built, it's so easy to edit pages, or completely change the look & colour scheme or website design of your site with the click of a button. The InstantPro Web Site Design package also offers some advanced features which means that making websites is now a walk in the park.
You can easily add MP3 music tracks, Google or YouTube videos and Flash animation to liven up your site. Or edit the keywords and metatags of your pages to improve your search engine performance, check statistics on visitor traffic data and monitor external links to your website. Don't forget you get free web site promotion and you can even add Google AdSense to your pages and make money through advertising!
There's no minimum term contract with the InstantPro Site Builder, and everything needed to get your website online is included in the price.
Find out more about the Pages Types and Features available, or buy an Instant Site for just £3.49 per month ex VAT (or free with Freeola Broadband).
While InstantPro is very easy to use, building a website isn't everybody's cup of tea. For this reason we offer a choice of professional website design and maintenance services.
InstantPro Website Builder
InstantPro Website Builder - 100% Money Back Guarantee Offer
InstantPro is our fantastic service that lets you build and host your own full web site regardless of how much technical knowledge you have. It allows for simple one page web sites or full multimedia web sites, with a host of amazing features such as Blogs, Guest Books, Galleries, Hit Counters, Logo Creators and loads more benefits.
For just £3.49 + VAT per month you can have your own stunning web site to be proud of. In fact, we're so confident that you'll love the service, that for a limited time only, if you aren't entirely happy, we'll completely refund your money.
Simply sign-up and, if you no longer want to use the service, simply cancel your InstantPro subscription and let us know within 30 days of signing up by sending us an InstantPro Money Back Claim Form. You will then receive a full refund.
---
MONEY BACK OFFER RULES:
InstantPro Money Back Offer is limited to one per household, UK residents only. Offer available for InstantPro subscriptions created on or after August 1st 2010, while offer lasts.
To qualify for a full refund of your first InstantPro payment, you must cancel your InstantPro subscription (via the MyFreeola Control Panel) within 30 days of purchase and we must receive a correctly completed InstantPro Money Back Claim Form within 14 days of this cancellation date.
Any refunds made in respect of this offer will be paid to the credit or debit card used to pay for the service. Please allow up to 28 days for the refund to appear on your account.
Use of the InstantPro Website Designer is subject to the standard Freeola Terms & Conditions.
---
Happy Website Building!
The Freeola InstantPro Team.
InstantPro Website Builder - External site
You have requested to visit an external website. Freeola does not control or moderate the content of 3rd party websites.