Check out the range of page types available with InstantPro. We're adding page types and features all the time following your feedback, so there's loads more to come.

With InstantPro, you can create a complete website in minutes. The variety of pages that you can create is unlimited! Once you've chosen a template and customised the look and feel of your site from the intuitive menu, there are a couple of ways to create your website page content. The following sections outline the options for page creation, all from an editor that lets you flexibly create any type of page layout and includes dedicated page wizards, allowing you to build complex page types in just a few clicks.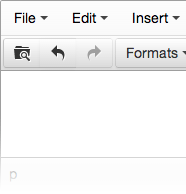 Our Powerful Drag & Drop Page Editor!
The InstantPro Page Editor allow users to easily create pages with text, images, media and design spacers. All you have to do to get started on your page design is start dragging elements into your page to position and re-size them however you like. Text wraps around images and media elements with none of the usual fuss, helping you make the perfect web page.
You can start from scratch to create your own custom layout or make use of one of our existing templates to make things even simpler. There's even advanced options to allow you to edit source code and use plug-ins to really get the most out of your pages.
Create special pages and features, using the Page Wizards!
Of course you're not limited to using only the text editor! Pages in the builder can be created using the simple, streamlined page wizards, too! Want to create a contact form? Using the wizard, it takes only seconds - give the contact page a name, type in your contact e-mail address, and click finish! Building a website doesn't need to be hard work and certainly doesn't need to cost hundreds of pounds.
Pick

'n'

Mix

for even more impressive pages!
You can easily combine page types to create whole new pages! You can add multiple standard pages together to create different layouts, or add a guestbook and gallery together to get instant feedback on your photos! Mix and match page types to create your unique, personal website today, with InstantPro Website Builder.
---
---
Everything you need. Just £3.49 (ex vat) per month.
Build a website in 5 minutes with our easy website builder.

Unlimited hosting so you can have unlimited pages, images and more!

Free promotion in our site directory to give your website a traffic boost.