Easily Create your own

Blog Website
Easy blog site - the simplest blog software...
Post your thoughts on the web with a great-looking blog. With unlimited pages, and visitor comments on each of your posts, you can keep in touch with the people that matter
You'll be blogging in no time!
You don't need any technical knowledge to get your own online blog site up and running. We provide everything you need to start a blog, including unlimited blog hosting!
---
Create a blog site with our simple, great
Blog

software.

So you wanna be a 'blogger'!? Our blogging software is part of a service called InstantPro Website Builder, which allows you to make a blog as part of a whole website of absolutely any size! It also includes a great range of other page types (online photo galleries, guestbooks and more!) allowing you to fully utilise your online web space.

You can create a free blog website and choose from loads of great, customisable blog templates and designs and begin writing blog posts in no time. Whether you want a music, video or even a business blog, InstantPro allows you to create one in minutes! The page editor allows you to easily upload music, images, YouTube & Google videos. It is even compatible with Google AdSense and has a host of great features to make yours the best blog on the net.

InstantPro requires no technical knowledge what-so-ever, so you can get your blog site up and running in a matter of minutes... literally!
Find out More.
Create a Blog in minutes
Customisable blog designs
Write unlimited blog posts
Easy commenting system
Choose to moderate replies
Create a video blog, music blog or any kind of blog!
Keep your followers up to date with an RSS feed
No downloads or installs
Includes Blog hosting fees
Google AdSense compatible
In-Depth traffic statistics
No MySQL database required
With InstantPro website builder, you aren't just limited to creating blogs. You can create an entire website, with features such as online galleries, contact pages, guest books, and more! These can all be created in minutes, just like creating a blog. Simply fill in a few boxes and InstantPro does all the work for you! You don't just get a fully-functional blog, but also the ability to build an unlimited website with InstantPro Website Builder.
---
What is a Blog?
A blog (web log) is a collection of web pages within a website, on which you can write personal thoughts, news, ideas and so on. You can also post videos and music on blogs and visitors are often given the freedom to submit comments in response to any posts made.
Typical online blog software (such as Wordpress or Movable Type) will allow you to create a free blog, but unfortunately requires you to download/install blog software and already have an existing website or web space along with a MySQL database. Visitors to your site can then read and comment on your blog posts. All of this - and a whole lot more - is all available with Freeola's InstantPro Website Builder, but with nothing to download or install, and no MySQL database or blog hosting is needed! Get your free blog today with Freeola Broadband or sign-up now for just £3.49 +VAT per month!
---
Just £3.49 per month
(excluding VAT - charged quarterly) or totally free with any of Freeola's cheap broadband packages.

---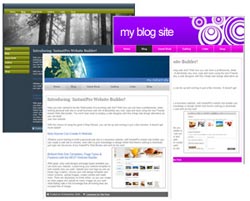 Take a look at our example blog!
But don't forget that with our easy-to-use online website builder InstantPro you can customise the appearance of your site. You can choose the colour scheme, the navigation, upload your own banner and logo, or you could choose one of our great looking templates and start blogging straight away!