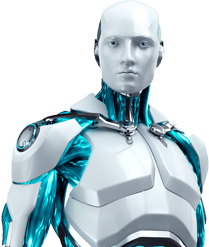 NEW 2018 Edition Available Now
ESET
Internet Security
Internet Security: Intelligent, integrated online security from ESET
---
Buy Now

Up to 34 times faster than other anti-virus software packages, ESET Internet Security is by far the fastest, smallest and best security software available. ESET Internet Security protects and defends on all fronts against lone and blended threats with continuous security updates.
Based on 'NOD32 Anti-Virus', ESET Internet Security is an easy-to-use full security package. Best of all - it doesn't slow down your computer! ESET Internet Security takes less than a minute to install, and protects your computer better than any other internet security product. Freeola have discount prices online, so buy from us today!
This package includes ESET's NOD32 Anti-Virus as well as anti-spam, anti-spyware, firewall software, banking and payment protection (to keep your money safe while shopping & banking online), enhanced botnet protection and new connected home monitor to detect any vulnerabilites on your home network.
Highly Effective
Internet Security was built as a single integrated solution to provide the most proactive, fastest threat detection in the world.
Easy-to-Use
Internet Security features a simple user interface for all the modules, which work together easily instead of running independently.
Fast & Efficent
Just like NOD32, Internet Security consumes far fewer computer resources than rival products, and doesn't slow down your PC.
Buy ESET Internet Security

Discounted ESET Internet Security Internet Prices
ESET's Internet Security software is a complete security package including antivirus, anti-spyware, anti-spam, and an integrated firewall that provides the optimum protection against any known and unknown threats, of any form.
Its built-in firewall has a 'Learning Mode', which automatically creates firewall rules by observing how you use your computer! The anti-spam and anti-spyware systems keep your computer free of malicious files - now including a small, faster and even more effective filtering system.
1 Computer
2 Computers
3 Computers
4 Computers
Purchasing five plus licenses? Click to see our Endpoint Business Security options.
All prices shown exclude VAT.
Buy Now
---
How the ESET Internet Security System Works
ESET Internet Security is an integrated security suite based on the award winning detection and scanning technology behind NOD32 Antivirus. Internet Security is tightly and effectively integrated for maximum security, unlike other internet security products which tend to offer a range of stand-alone products, which don't work quite so smoothly together.
Unlike large suites like Norton Internet Security, ESET Internet Security uses only 40MB of disk space, it's quick to install, easy to use and doesn't even require you to re-start your machine. It doesn't rely on downloading large update files to detect threats, so it's really fast and offers maximum protection combined with a near-zero impact on system performace. ESET Internet Security is the best internet security software offering anti-spam, anti-virus, firewall and anti-spyware.
Downloading ESET and Getting Started
ESET Internet Security is compatible with Microsoft Windows XP, Vista and Windows 7, 8, 8.1. & 10. Shortly after purchasing your ESET Internet Security license you will be sent an e-mail containing your license details and a link to download the Internet Security software directly from ESET. This is usually available within an hour or two, but please allow up to 24 hours before contacting us to allow for occasional delays due to busy e-mail servers or other routine issues.
Existing Users: Renewals and Upgrades
If you have purchased an earlier version ESET's Internet Security Software from Freeola, you can upgrade to the newest version free-of-charge in the MyFreeola Control Panel. MyFreeola is also the place to go to renew any of your ESET licenses. If your license is due to expire, see our ESET Renewal Prices page.
ESET Industry Awards, Certifications & Accolades
SC Magazine - Five Stars, Outstanding Rating

ESET Endpoint Security earned the highest overall rating with five stars. "We found this product to be a straightforward install from both the server and client sides. Its overall ease of use and flexibility provide a lot of value for any organization."

---

Virus Bulletin - 81 Virus Bulletin VB100 Awards

"Another product with a flawless record, ESET's run of VB100 certifications dates back many years."

---

Maximum PC - Best Anti-Virus Software of 2013

ESET Internet Security (version 6) has scored one of the best marks, 9 out of 10 points, in the year round up 2013 Maximum PC Review, making it one of the best anti-virus software of 2013. Maximum PC editor Paul Lilly saw ESET Smart Securty as one of the leading Internet security products emphasizing the usability and flexibility of the product commenting that "you'll uncover a gold mine of options."

---

Parent Tested Parent Approved - Seal of Approval

ESET Internet Security received the esteemed PTPA (Parent Tested Parent Approved) Seal of Approval, the most publicized and highly recognized award seal in North America.

---

Inc. 5000 - Leadership Recognition

Every year the Inc. 5000 celebrates the remarkable achievements of today's entrepreneurial superstars - the men and women leading the 5000 fastest-growing private companies in America. For the past three years, ESET has been named a member of this exclusive club.

---

West Coast Labs - Checkmark Certified

West Coast Labs, Checkmark certifications are given based on products' ability to detect and remove threats. ESET holds Checkmark certifications in both detection and removal of infections.

---

Gartner - 2012 Largest Worldwide Growth

For the second straight year, ESET ranked by Gartner as the security software vendor with the largest worldwide growth in consumer security.

---

AV-Comparatives - "Advanced+" Awards

ESET has more "Advanced+" awards in performance and retrospective tests than any other vendor. To receive top ranking, the product has to have excellent heuristic detection rates and low false positives.

---

AV-Comparatives - 2012 Approved Corporate Product

The ESET Remote Administrator is a feature-rich console that provides all the functionality needed for enterprise environments. It 's design allows essential monitoring and administration tasks to be easily carried out, making it equally suitable for small and medium-sized businesses.

---

CNET - Editors' Choice Award

The coveted CNET Editors Choice award recognizes outstanding consumer electronics that represent the best available choice for quality, performance, design, service, and value. It's logo is a mark of excellence denoting the best possible investment for consumers.

---

PassMark Software Highest in Performance

ESET Endpoint Security ranked first in an independent review by PassMark Software and was rated highest in performance among seven endpoint security solutions.

---

OPSWAT Certification - OPSWAT Certified

In October 2013, ESET NOD 32 Anti-Virus and ESET Internet Security (version 7) received OPSWAT certification.

---

Frost & Sullivan - 2012 Best Practices Award

"ESET continues a focus on product innovation while continually adding value from a cost and technology perspective."