Freeola Broadband
The Wireless Guide - Setup
Set-up your Wireless Network
To set up wireless networking, you'll first of all need to configure your Wireless Router, you will need to connect to it using the network cable supplied. Plug it into one of the LAN ports in the back of the router and plug the other end into the Network Card on your computer. (If you do not have a network card then you will need to use a USB cable. Please consult your manual for details.
Once the cable is connected you will need to open your Internet browser, type the address of the router (as specified in the manual) into the address bar. When you press enter you will probably be prompted for a password, again this should be stated in the manual.
If you select your wireless router during the Freeola Broadband Sign-Up process, we'll pre-configure it for you, so all you need to do is plug it in and you'll be ready to surf!
---
Configure your Wireless Settings
There are several things that you will need to change in order to setup wireless networking.
SSID or Wireless Network Name
This will need to be a word which no-one else will be able to guess, preferably with a mix of letters and numbers for added security. The SSID set in the router will need to be matched identically in the wireless adapters settings or the connection will not work.
Wireless Encryption (WEP) or Wi-Fi Protected Access (WPA)
For Wireless Network Security, wireless encryption is important and will stop unauthorised people from being able to connect to your network. Most routers have a way of generating this key with a pass-phrase, choose a word that you will be able to remember but like above, don't make it too easy! Once entered, write the phrase down. It is important that you set security that is compatible with your wireless adapter or else you will not be able to connect. If in doubt consult the manual for your adapter.
Find out more about Wireless Security Settings.
---
Connecting Wirelessly
Insert the Wireless Adapter into your computer, it should then ask you to install the drivers. Insert the CD that came with the adapter and allow Windows to install the drivers from it. If the adapter asks if you would like to use the windows wireless wizard, or the item's own software please choose the windows option because that is what will be laid out in this section.
Once the driver is installed you may need to reboot your computer, after this windows should detect a new wireless network and will display a network icon in the task-bar. This will be similar to

(or

if you also have an active wired connection). Now you will need to configure it.
First, click the network icon in your task-bar (as shown above). The Wireless Network Connection window will appear and should list your wireless network. If it does not then click the refresh icon in the top right. Once your network shows, select it and click connect.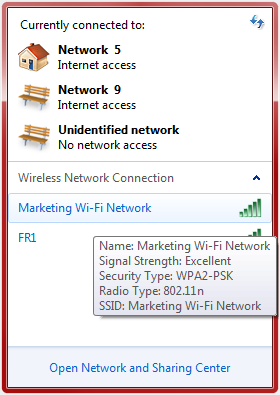 You should now be asked to enter a Security key, this is the encryption key that you wrote down earlier. Click OK after entering your key.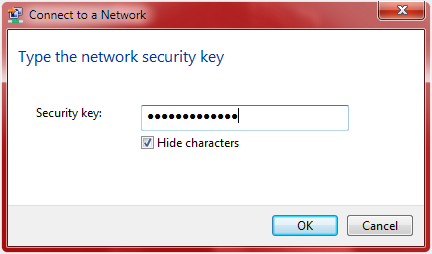 A window will show the progress of your computer as it connects to your network. After it finishes, you can close the Wireless Network Connection window. If the connection fails, you may not have set the encryption correctly. Check settings by right clicking on your wireless network in the Wireless Network Connection window and selecting Properties.
Configure the wireless key to match the router settings and once this has been done you should be able to connect to the internet and start surfing away!
Note: The information shown on this page is meant to be used as a guide. If you are experiencing issues with the set-up of your equipment, it is recommended that you refer to the manual, or failing that, the manufacturer.
---
Setting up your own Wireless Broadband has never been easier!
Well, first of all you'll need to have a wireless compatible broadband connection. Freeola's Broadband packages are all wireless-friendly and it's incredibly quick and easy to get yourself set-up. Simply take your pick of our amazing broadband packages, and choose your wireless equipment during sign-up. We'll even pre-configure your router so it's ready to plug in and surf... It really is that easy!
If you already have a wireless capable broadband connection, take a look at our Wireless Equipment page to find out what equipment you need. If you already know what you need, you can purchase cheap wireless equipment from the Freeola Shop.
Choose your Freeola Broadband Package
Select your choice of wireless equipment
Relax, and we'll take care of the rest
---
Wireless Glossary
Wireless Broadband
A broadband internet connection without any wires or cables connecting the computers to the internet.
Wireless Network
A Network of multiple Computers, Laptops and Printers all connected to each other and the internet wirelessly.
Wireless Router
The essential item that connects you to the Internet with the built in ADSL modem.
GB
A GB (gigabyte) is a unit of information or computer storage equal to 1 billion bytes.
Mb
A Mbps (megabit per second) is a unit of data transfer rate equal to 1,000,000 bits per second or 1,000 kilobits per second.
PCI Adapter
An Internal Network Adapter used with PCs allowing wireless communications between the Computer and a Wireless Router.
USB Network adapter
An External Network Adapter suited to all types of computers allowing wireless communications between the Computer and a Wireless Router. USB adapters are very easy to use as you simply plug them into a USB port on your computer.
WEP, WPA, SSID hiding & MAC Control
These are all different types of Wireless Network Security. These allow for different levels of security to be set within your wireless router so that your network is safe from intruders trying to connect to your network.
MIMO Technology
Multiple-input multiple-output communication. MIMO Routers have more antennas therefore allowing more wireless connections and more coverage. A MIMO Router allows more devices to connect to it than a standard router, and will also have greater coverage, so the range of the wireless network can be increased.
802.11
The Wi-Fi standard that applies to wireless devices such as routers, denotes a set of Wireless LAN/WLAN standards developed by working group 11 of the IEEE LAN/MAN Standards Committee (IEEE 802). The two main types are 802.11b (which supports speeds of up to 11Mbps) and 802.11g (which supports speeds of up to 54Mbps). You won't notice any difference when browsing the internet with a standard (up to 8Mbps) broadband connection, however file and data transfers between devices on a wireless network will be faster with the 802.11g rather than the 802.11b.