---
Welcome to the Freeola Internet customer support pages. This guide is designed to help with setting your Blogger blog to publish via FTP to your Freeola web space. For more internet help topics please visit our main Support Page.
Do you have a Blogger account already but want to use it with your Freeola web space or wish to set an account up using your hosting account you have with Freeola? Then follow this simple guide to doing just that.
Firstly you will need to log into Blogger, or sign up an account if you do not already own a Google account. You may well already have a Google account if you use Gmail or any other of Google's Services. You can get to Blogger here.
VIP Hosting users only

In order for Google to upload to your web space you will need to have VIP Hosting otherwise Google will not be able to connect via FTP. You can sign up for VIP Hosting here.
To sign up for a Google account click Create a Blog on Blogger's homepage, otherwise sign in using the form at the top of the page. You will then need to Create a Blog if you have not done so already, you will be asked what title you want to give your blog, what URL you would like to use something like http://freeolablog.blogspot.com and possibly ask you to answer a security question. You will also then be asked what template you wish to use with your blog and then you will be notified that your blog has been created. Click through to Start Blogging to view your blog control panel.
If you already had a Blogger account you will just need to go straight into your blogging control panel, otherwise you should already be there if you have just signed up. In order to publish your blog via FTP to your web space you will first need to make sure you're using the Classic Template and have set the Blog Readers option to Anybody.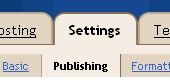 To set your theme to classic go to Layout and then Edit HTML. Scroll down to the bottom of the page and click the Revert to Classic Template link. Now to make sure your blog can be read by anybody, go to Settings and then to Permissions. Set Who can view this blog? to Anybody.

Now go to Settings, then Publishing and then look for Switch to: and click FTP (publishing on your ISP server) next to it. Grab your FTP details from your MyFreeola account and then you need to enter your those details into the appropriate fields as explained below:
FTP Server: This will be something in the form of vip5.freeola.net.

Blog URL: This is your domain name, however include http:// before it. If you wish to publish to a sub folder, make sure you include it at the end of your domain name e.g. http://www.test.myfreeola.com/blog.

FTP Path: This will be htdocs but if you are publishing to a sub folder within htdocs you will need to state that folder too like htdocs/blog.

Blog Filename: You can leave this as index.html unless you want to change it.

Feed Filename: Again you can leave this as it is unless you want or need to change it.

FTP Username: This will be your FTP username provided by Freeola, e.g. vip0123456.

FTP Password: This will be your FTP password provided by Freeola.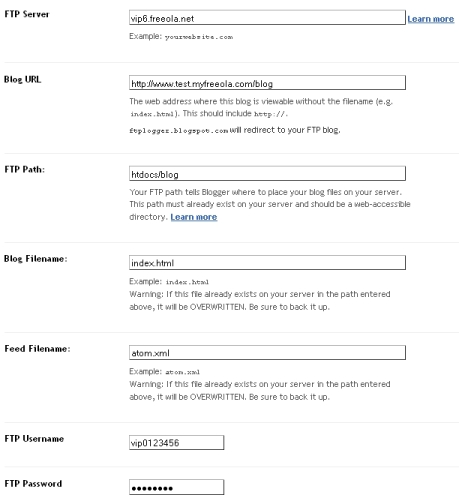 Once you have entered these details fill in the security verification. Then click Save Settings. You should then see a success message, click Republish now to upload your blog. Please note, if you have not yet created any posts you will need to before your blog will appear on your web space.

Files not appearing yet?

Occasionally it can take a few hours for blogs uploaded using this method to appear 'live'. If your site is not appearing after 24 hours please contact a member of Freeola Support.
---
---
Freeola & GetDotted are rated
Check out some of our customer testimonials below:
It is really great!
Your service is the best I have ever seen. It is really great, and very easy to use. Your control panel is especially finely tuned. It's great! Everything about Freeola is ...
...great to have the backup of Freeola and the excellent staff...
I recently purchased a new computer and had initial problems getting it set up to receive and send e-mails etc and I spoke to you on several occasions and we finally got it...
Need some help? Give us a call on

01376 55 60 60
Live Chat is offline
Live Chat is available:
9am to 6:30pm Monday to Friday (excluding bank holidays).
It appears you are using an old browser, as such, some parts of the Freeola and Getdotted site will not work as intended. Using the latest version of your browser, or another browser such as Google Chrome, Mozilla Firefox, or Opera will provide a better, safer browsing experience for you.