---
Using Cron Jobs on Freeola Web Hosting
The Freeola Web Hosting service offers the ability for customers to setup cron jobs.
If you have a Freeola Web Hosting service you can access Cron Jobs from the My Websites section of your MyFreeola account by selecting Options & FTP Settings next to the website you would like to view/add these on.
On the new page simply scroll down to the section labelled Cron Jobs, then click Manage.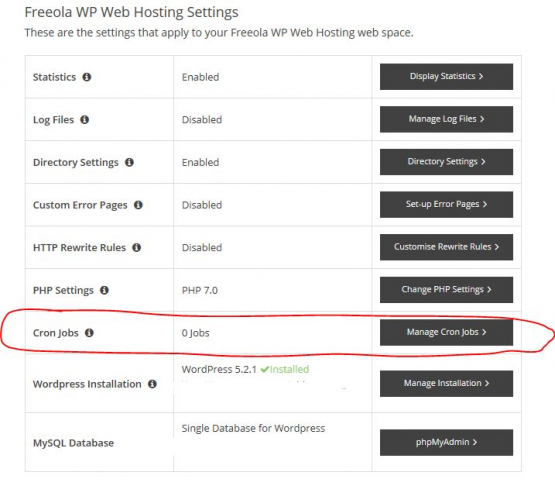 What are Cron jobs?
Cron jobs are time-based tasks that are carried out automatically by our web hosting servers.
The system is a scheduler which runs tasks at given times. This can be anything from scripts that need to be run every hour to monthly checks on whether there are updates for a piece of software.
Freeola Web Hosting allows customers to specify a schedule to run scripts from within their web space.
Cron Syntax
The Freeola Web Hosting Cron settings page has 5 inputs to allow a scheduled task to be setup. The fields are defined as:
Minutes (0 - 59)

Hour (0 - 23)

Day of month (1 - 31)

Month (1 - 12)

Weekday (0 - 6) (0 to 6 are Sunday to Saturday)
Other common syntax used in Cron jobs are:
* (asterisk) - Meaning 'all' or every possible setting. i.e a '*' in the minute field will tell the Cron job to run every minute.

- (hyphen) - Used for setting a range. i.e '9-17' in the hour field will tell the Cron job to run at 9 A.M and 5 P.M plus every hour in between.

, (comma) - When used a separator basically has the same meaning as 'AND'. i.e '1,7' in the month field tells the Cron job to run in January AND July.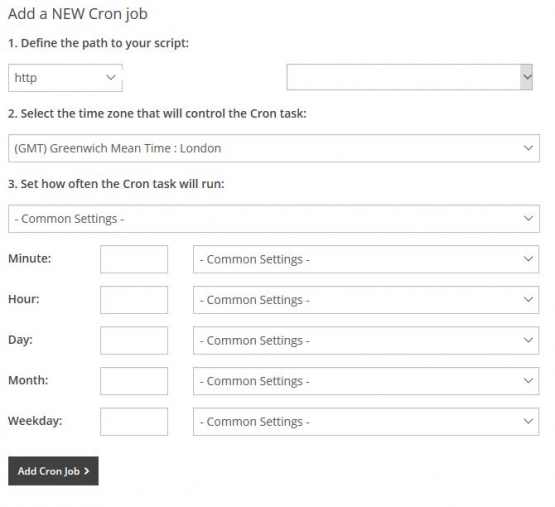 ---
---
Freeola & GetDotted are rated
Check out some of our customer testimonials below:
10/10
Over the years I've become very jaded after many bad experiences with customer services, you have bucked the trend. Polite and efficient from the Freeola team, well done to...
Chuffed to bits...
Have only recently signed up with Freeola after 15 yrs with my previous ISP. I have to say, I'm chuffed to bits. The sign up was easy, the actual transfer went very smoothl...
Need some help?
Give us a call on
Live Chat is offline
Live Chat is available:
9am to 6:30pm Monday to Friday (excluding bank holidays).
It appears you are using an old browser, as such, some parts of the Freeola and Getdotted site will not work as intended. Using the latest version of your browser, or another browser such as Google Chrome, Mozilla Firefox, or Opera will provide a better, safer browsing experience for you.