---
Managing your new Blog
By Freeola Support on 3rd May, 2017 | 0 Comment(s)
Now that you have created your blog, you will now need to know how to manage it!
Launch InstantPro and from the Main Menu, click Manage My Blog, under the Website Tools section. If you have more than one blog page, select the one you want to manage from the drop down list.
Adding New Posts:
To write a new post on your blog, simply select the Write a New Blog Post button.

Once you have completed your new post, press the Finish button.
Editing Previous Posts:
To edit any post, simply click the Edit icon of the post you would like to update.

This will take you back to the editor, where you can edit the post and post title.
After you are happy with the changes, press the Finish button to save and update.
Deleting Posts:
Deleting a blog post is easy! Simply click the Delete icon for the relevant post.

Moderating Comments:
Step 1: You may want to Edit, Delete or Approve comments made on your blog. To do this, click the Moderate Comments button.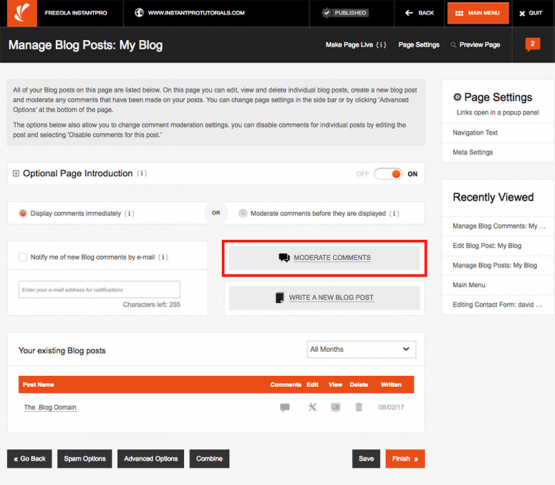 Step 2: Clicking Delete will irreversibly delete the comment. You can check or uncheck the Approve Comment box – unchecking the box means that the comment will not be deleted – but it will not appear on your site. The comment will automatically be approved, unless you opted to moderate comments.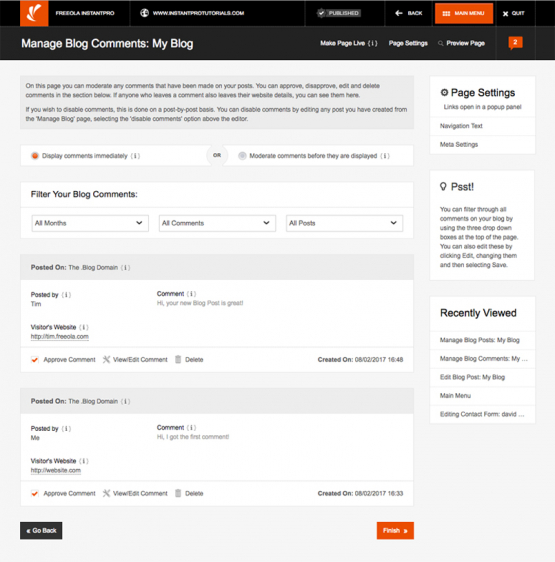 Step 3: If you want to make small changes to comments, click the View/Edit Comment button – when you are happy with the changes, press Save.
After you are happy with the changes made, press the Finish button.
RSS Feeds on your Blog Page:
RSS Feeds are a great way to keep regular visitors up to date, and there is nothing you need to do to enable the facility – it's done for you automatically. You can add a Subscribe to RSS button to your page. To do this click the Advanced Options button and check the Show RSS Feed Button tick box.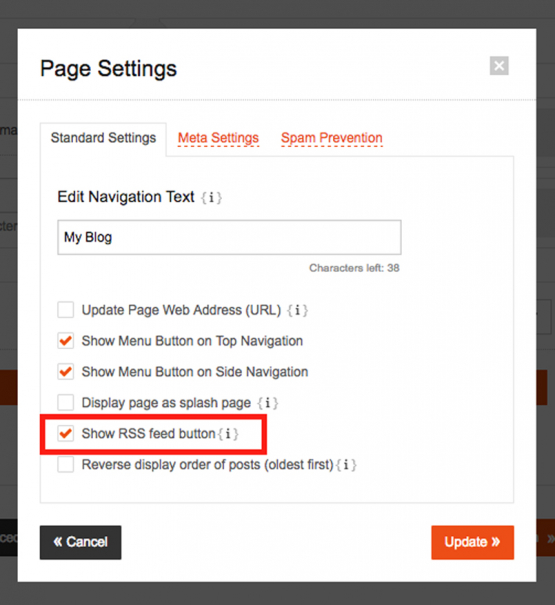 The Subscribe to RSS button will appear just below your post, just like in the image below: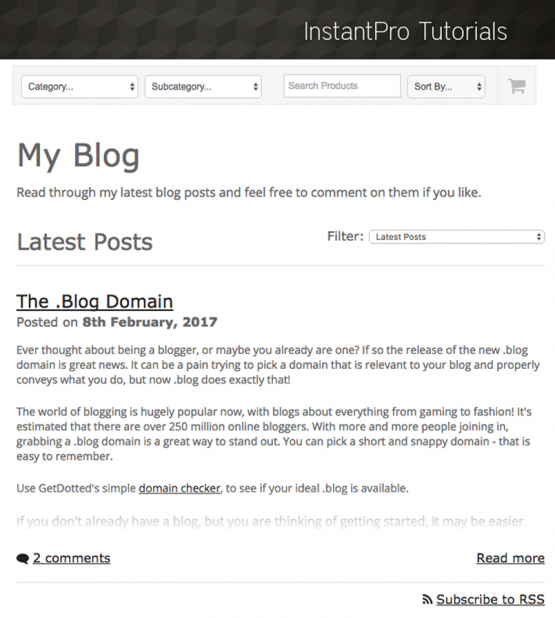 ---
---
---