---
Uploading and Managing Images
Last updated on by Freeola Support
Adding images to your webpages can really enhance the quality and appearance of your site.
If you have pages containing a lot of text, adding images will add some variation to the page and will also break up the text making it easier for visitors to your site to read your pages.
As with all the features available with InstantPro, adding images to your pages is really quite easy to do.
Throughout this tutorial we will create a new page and then add an image to it, exploring some of the other things you can do with your images in the text editor.
If you wish to add images to your site to create a Gallery Page, you will need to visit the Gallery Page Tutorial as the method used is slightly different to that discussed in this guide.
This guide will cover adding images using the placeholders available on some page templates, and  adding images on your pages, as well as using the InstantPro Image Editor to edit your images. You can skip to the start of each guide using the links below.
Adding Images Using Image Placeholders    Uploading Images    Editing Images

In order to follow the tutorial you will need to be logged in to your MyFreeola account. Once logged in to your account you will need to launch the InstantPro Website Builder which will take you to the Site Overview page.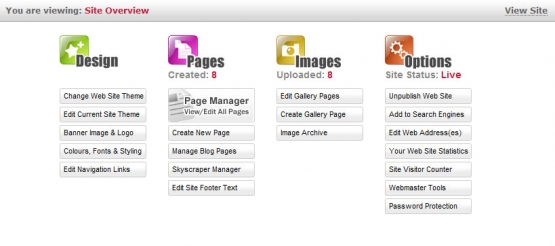 Click image to view full-size
You will need to select the Create New Page button from the Site Overview page.
InstantPro has an in built image editor meaning that you can add different effects to your images, or resize them as necessary.
It is possible to edit your images directly after uploading them, as mentioned earlier in this guide, but if you already have an image in place and want to change the way it looks you do not need to upload the images again.
The InstantPro Website Builder stores an archive of previously uploaded images. This also includes any images you have uploaded on to a separate Gallery page too.
To access the image archive and edit images you have previously uploaded for inclusion on your pages it is necessary only to click the image button from the Text Editor options.
As before, on the box that appears you will need to click the Browse button.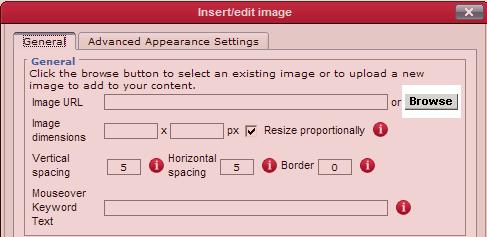 You will next see the page through which you are able to upload images. You will notice as well that there is a second tab titled "Select a previously uploaded image".
When you click on this tab you will see a drop down menu which invites you to choose which images you wish to view. Images are separated in to those added to Gallery Pages, and those which are not. If you have more than one Gallery Page you will be able to select images according to which page they are on.
Once you have selected the appropriate directory you will see the screen as shown below, which shows the images I have uploaded to the tutorial site. In addition to the image archive listed, you will see that I can view images uploaded in to two gallery pages too.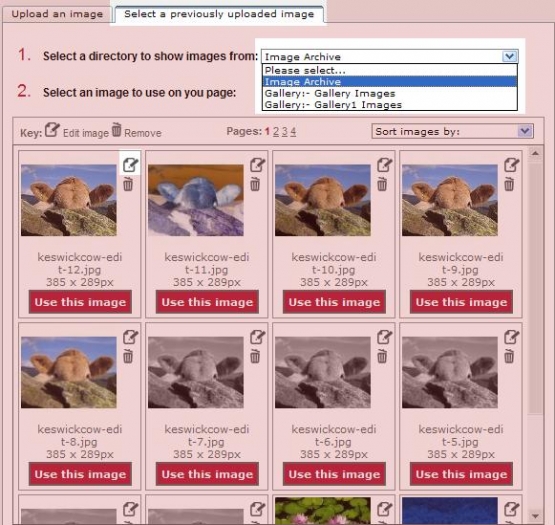 Click image to view full-size
You are now able to select one of the images you have already uploaded, which you can do by clicking the

 button shown to the right of the image.
This will load the image in to the image editor.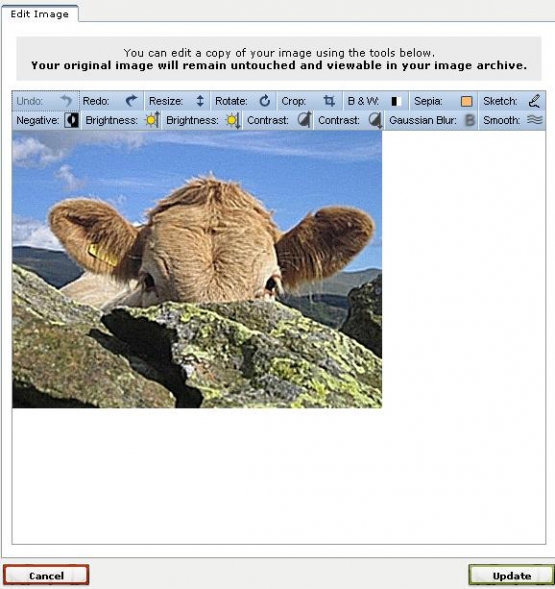 Click image to view full-size
Shown above the image which is being edited are the image editor controls.
The effect each different option has is listed below. Just hover over the item for the description to appear.
The options available with the image editor are described below:

Undo: This will undo your last action, giving you an easy way to correct mistakes!

Redo: The Redo option re-does your last action.

Resize: The Resize option will allow you to set a custom size for your images, useful if you want a smaller version of a large image elsewhere on your site. You can set pixel values or use our image resize slider tool. 

Rotate: This option will rotate the image 90° in a clockwise direction.

Crop: Allows you to crop the image. Ideal for removing small parts of an image.

Black and White: Removes all colour from the image and converts it to greyscale.

Sepia: Applies a Sepia effect to the image. Put simply, this will make the image look old.

Sketch: This will apply a sketchy effect to the image. 

Negative: This will invert the colours of the image.

Brightness: This option will allow you to increase or decrease the brightness of an image. 

Contrast: This will allow you to both increase and decrease the image contrast.

Gaussian Blur: Adds a blur effect to the image. 

Smooth: This smooths the edges of the image. 
In order to make changes to your images, simply click the button that represents the change you intend to make and the effect will be applied to the image. If you don't like what you see just click the Undo button to reverse the changes.
Once you are happy with how your image looks and are ready to add it to your page, just click the Update button and you will be shown the image on the Image Preview page as shown under Step 7 in the main tutorial, where you are able to define the height and width values for the image and ultimately add it to your page.
Editing Images Already in Place

The procedure is almost identical if you wish to edit an image already in place on your site. The example image below shows the image I wish to change.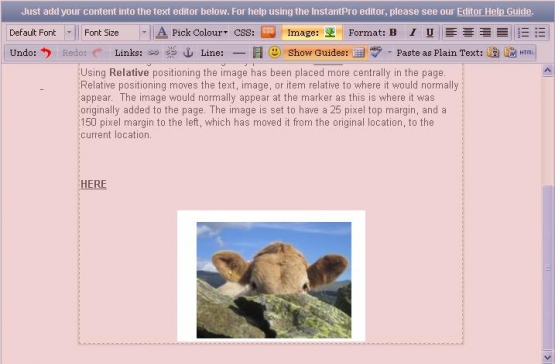 Click image to view full-size
You will need to highlight the image you wish to edit and click the Images button.
You will then be shown the image in the same way as in the image preview, this time though you will need to select the Edit Image button as highlighted below.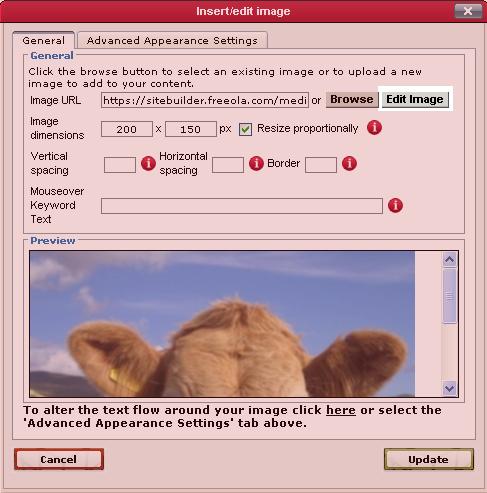 This opens the image within the image editor.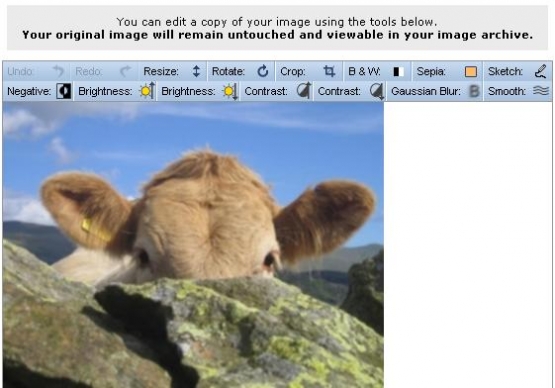 Click image to view full-size
You will now be able to change the image as you require and any changes you make can be saved and will then be applied to the image already in place on your page.
Should you make any changes to the image which you do not like, you can always use the Undo button (in the top left corner) to reverse the changes.
Finished!

Now you know how to upload your images to pages, find out how to add hyperlinks to your images and to your text too with our InstantPro Hyperlink Tutorial.
---
---
Freeola & GetDotted are rated
5 Stars
Check out some of our customer reviews below:
Top-notch internet service
Excellent internet service and customer service. Top-notch in replying to my comments.
Excellent support service!
I have always found the support staff to provide an excellent service on every occasion I've called.
Live Chat is available:
9:30am to 5:30pm Monday to Friday (excluding bank holidays).
It appears you are using an old browser, as such, some parts of the Freeola and Getdotted site will not work as intended. Using the latest version of your browser, or another browser such as Google Chrome, Mozilla Firefox, Edge, or Opera will provide a better, safer browsing experience for you.