---
Welcome to the Freeola Internet customer support pages. This guide is designed to give some general tips for the Freeola webmail service. For more internet help topics please visit our main Support Page.
Freeola Webmail is an easy to use web-based e-mail facility which allows you to check your new mail and send mail from any connection, anywhere in the world, for your Freeola500 email address or own domain e-mail addresses. Webmail is free to all our Broadband customers, but you can still add webmail functionality even if you don't use Freeola as your ISP by signing up for EmailPro. This page will help you use the Webmail service.
Logging in & receiving e-mail with Freeola webmail
Once set up, webmail is accessible through your MyFreeola account or directly through our web site.
Logging in through MyFreeola
Please log into your MyFreeola Control Panel, you can click here to access the login page.

Once logged in you should see a drop-down box near the top of the screen labelled Check Your Webmail, this will open a new box. From the new drop-down menu select the e-mail address you want to check and press the 'Go' button.

Logging into your Webmail account directly
Enter 'http://freeola.com/webmail' into your web browser and press the 'Go' button or the 'Enter/Return' key on your keyboard.

At this page you should see a 'Welcome to Freeola Webmail' message, and a prompt for your e-mail address and password. Please provide this information and then press the 'Log in' button.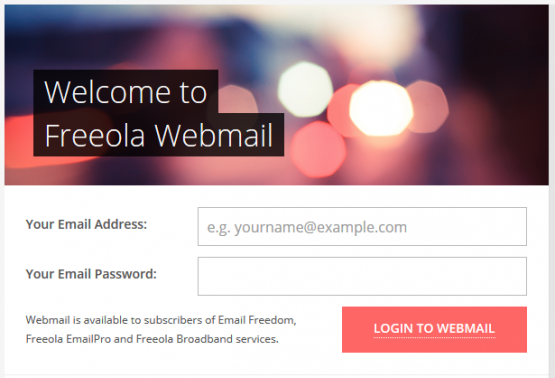 The login process for your account can take anywhere from a few seconds to a few minutes to load, this is because Webmail needs to download your messages from your mailbox. When logging again in future, messages that had been previously downloaded will not be downloaded again.
You should now be logged in to your Webmail account, where you can navigate through the messages stored on our server. To check for new messages (delivered after you have opened Webmail) you can press the 'Check Mail' button from the tool bar.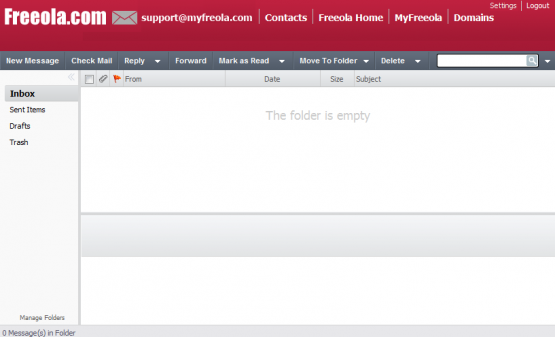 Sending e-mail with Freeola webmail
From the inbox page click the New Message button, the window will now refresh and provide you with the option to send a message.

From here you can insert all the necessary details intothe relevant boxes to send an e-mail. If you need to send an attachment you can do so with the Attach File section at the very bottom of the page. You then need to press the Choose File button to bring up a list of files and folders on your own computer. Select the file that you wish to send and click Attach.
Please Note: Freeola recommends not to send attachments over 10MB in size.
---
---
Freeola & GetDotted are rated
Check out some of our customer testimonials below:
Unrivalled services
Freeola has to be one of, if not the best, ISP around as the services they offer seem unrivalled.
Efficient and Helpful!
Just a note to state that Freeola's support staff have been extremely effecient, helpful, and friendly. I was truly satisfied with the service and attention I received. ...
Need some help? Give us a call on

01376 55 60 60
Live Chat is offline
Live Chat is available:
9am to 6:30pm Monday to Friday (excluding bank holidays).
It appears you are using an old browser, as such, some parts of the Freeola and Getdotted site will not work as intended. Using the latest version of your browser, or another browser such as Google Chrome, Mozilla Firefox, or Opera will provide a better, safer browsing experience for you.