---
Creating a Guestbook Page
Last updated on by Freeola Support
Guestbooks are pages where visitors can leave comments on your website. Use the Guestbook feature to gather testimonials, feedback and suggestions about your website or services.
Step 1: After launching InstantPro, you will be taken to the Main Menu. This serves as the starting point for managing everything on your site. Click Guestbook Page under Page Types Available to get started.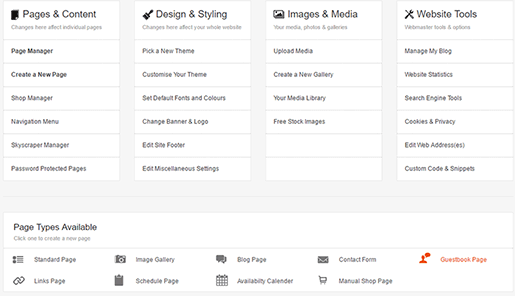 Step 2: Enter your Navigation Text and Page Title. The Navigation Text will be displayed on your site navigation and is also shown in the web address for this page. The Page Title is the text that will appear in the top bar of your browser. Once completed, click the Next button.
Note: There are also some Search Engine Optimisation Options. Take a look at the Search Engine Optimisation (SEO) Tutorial if you're not sure what to put here.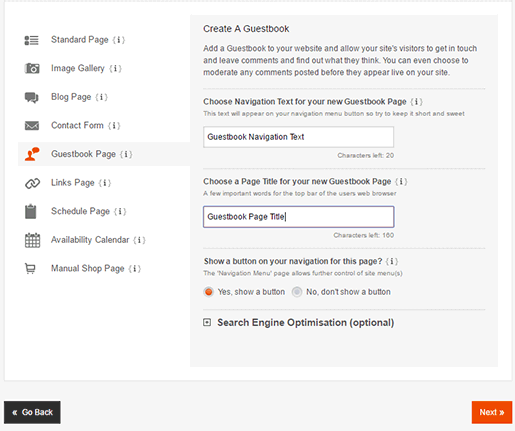 Step 3: Using the tick box on the right you can opt to Pre-moderate comments before they display on your site. Set-up email notifications by ticking the box on the left and entering your email address. The Spam Options button enables you to implement spam prevention options. Once you're set-up, click the Finish button.

Your Guestbook has now been created.
Step 1: From the Main Menu, click Page Manager. From there, click the Edit Icon next to your Guestbook Page, this will take you to the settings for your Guestbook. Here you can change how you moderate your comments.

---
Step 2:
Below each comment there are the options to
Approve
,
View/Edit
or
Delete
. Unapproved comments will only be visible on this page and won't appear on your site. New comments awaiting approval appear highlighted in red.
---
---
Freeola & GetDotted are rated
5 Stars
Check out some of our customer reviews below:
Top-notch internet service
Excellent internet service and customer service. Top-notch in replying to my comments.
Everybody thinks I am an IT genius...
Nothing but admiration. I have been complimented on the church site that I manage through you and everybody thinks I am an IT genius. Your support is unquestionably outstanding.
Live Chat is available:
9:30am to 5:30pm Monday to Friday (excluding bank holidays).
It appears you are using an old browser, as such, some parts of the Freeola and Getdotted site will not work as intended. Using the latest version of your browser, or another browser such as Google Chrome, Mozilla Firefox, Edge, or Opera will provide a better, safer browsing experience for you.