---
Changing Mail Username/Password on Iphone/Ipad/Ipod
Before Continuing...

Please visit your MyFreeola account and make a note of the following information before continuing, you'll need to know this for later on in the guide:

1, What protocol your e-mail address is set up to use (IMAP or POP3).

2, What service is assigned to your e-mail address (EmailPro, Free Email or Email Freedom).

3, Your e-mail address password.

You can find this information by clicking Email Addresses in the left-hand navigation in MyFreeola, then My Email Addresses. You should then be able to click Settings & Features button next to the relevant e-mail address, your e-mail protocol and service information can be found here.
1) Select the Settings menu then Select Password & Accounts
2) Find the appropriate Mail account and select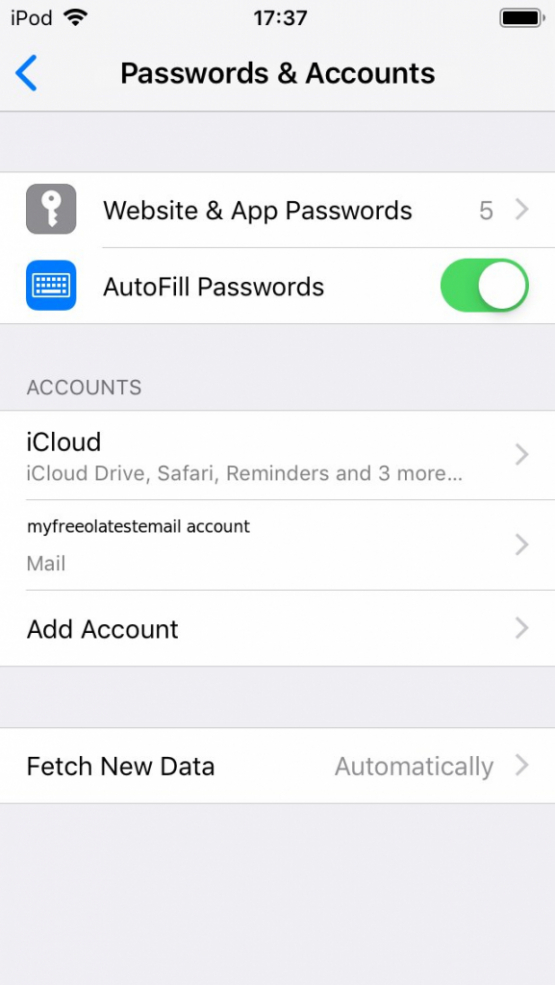 3) Select the Account (again)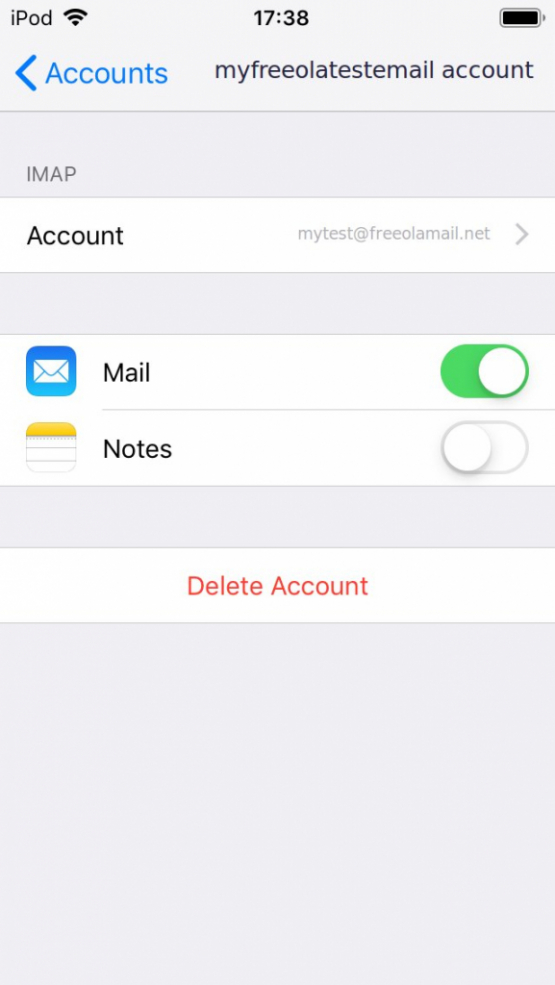 4) Update any incoming information that needs changing (Password/Username)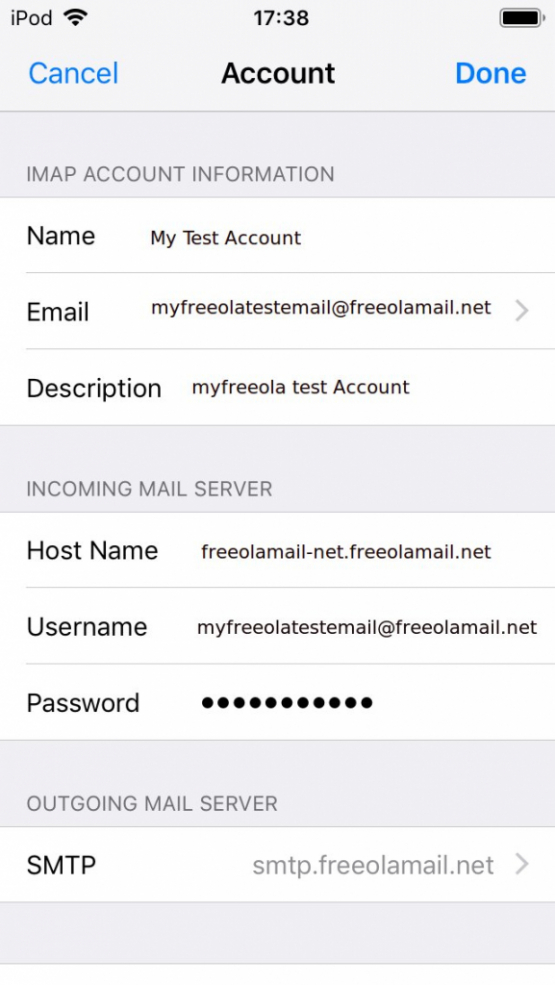 5) To change Advanced Settings (Port Numbers/SSL) scroll down to advanced and Click through or click through to the smtp server if you want to change Outgoing Settings.

6) To change Outgoing settings Click through to the Primary Server on the Account menu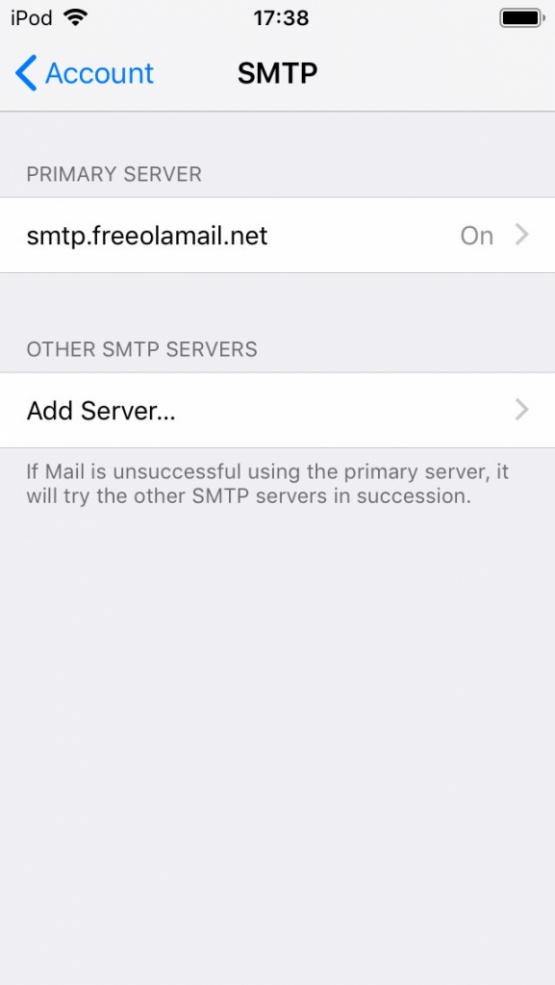 7) Make sure authentication is set to Password
8) Make sure Host Name is set to smtp.freeolamail.net
9) Make sure Username is set to your full Email Address (this is NOT optional)
10) Make sure Password is set to the same Password as the Incoming Server Password (this is NOT optional)
11) Make sure Use SSL is on (recommended)
12) Make sure Server Port is set to 587 (recomended)
13) Click Done and navigate back out when you are finished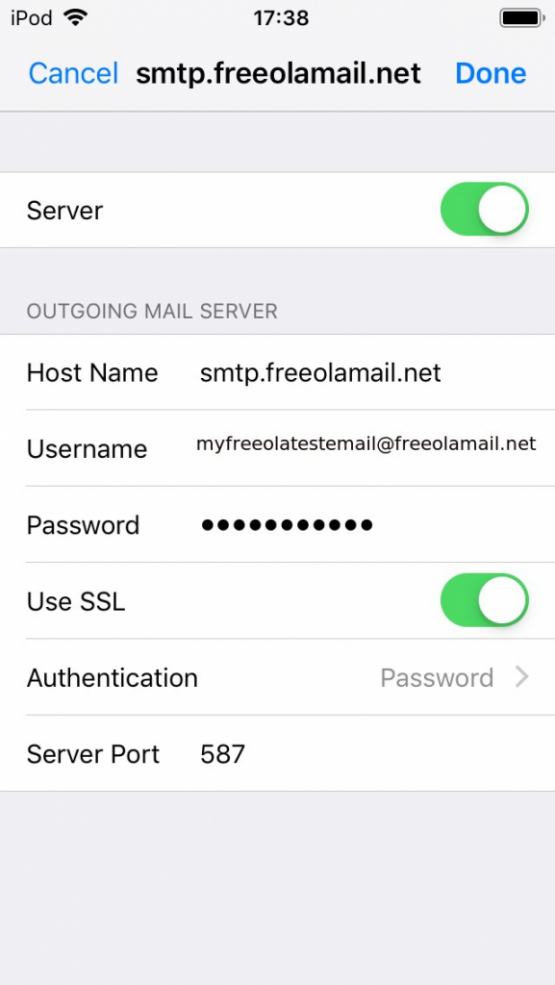 ---
---
Freeola & GetDotted are rated
Check out some of our customer testimonials below:
Very pleased
Very pleased with the help given by your staff. They explained technical details in an easy way and were patient when providing information to a non expert like me.
Many thanks!!
Registered my website with Freeola Sites on Tuesday. Now have full and comprehensive Google coverage for my site. Great stuff!!
Need some help? Give us a call on

01376 55 60 60
Live Chat is offline
Live Chat is available:
9am to 6:30pm Monday to Friday (excluding bank holidays).
It appears you are using an old browser, as such, some parts of the Freeola and Getdotted site will not work as intended. Using the latest version of your browser, or another browser such as Google Chrome, Mozilla Firefox, or Opera will provide a better, safer browsing experience for you.