ESET NOD32 Anti-Virus - 1 Computer / 1 Year
Latest version of the award-winning antivirus software. Real-time protection against viruses, spyware, rootkits, worms, trojans & more.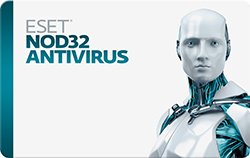 Pictures for guidance only, model may vary.
Product Code: 9001

In Stock

£22.49 ex VAT
(£26.99 inc. VAT)
Product Overview
*

1 PC/Workstation Licence

*

Software available for download upon purchase
*

1 year of updates

*

Suitable for Windows XP / Vista / Win7 / Win8/ Win10

Our Review
Achieves the industry's highest antivirus threat detection performance (for viruses, trojans, rootkits, spyware, adware, riskware, phishing, hackers and more. Unlike many anti-virus packages designed for home users, it works without slowing down your PC. Threat-Sense heuristic technology even scans and analysis any suspicious behavior to eliminate over 90% of 'day one' (or, previously unknown) malware - unlike antivirus programs that rely on downloading updates before users are protected.
Product Code: 9001

In Stock

£22.49 ex VAT
(£26.99 inc. VAT)