ESET Smart Security - 2 Computers / 3 Year
ESET Smart Security offers comprehensive protection using Antivirus, Antispyware, Personal Firewall and Antispam.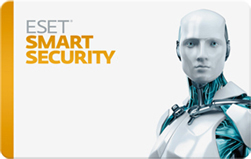 Pictures for guidance only, model may vary.
Product Code: 9039

In Stock

£69.49 ex VAT
(£83.39 inc. VAT)
Product Overview
*

2 PC/Workstation Licence

*

Software available for download upon purchase
*

3 years of updates

*

Suitable for Windows XP / Vista / 7 / 8 / 8.1

Our Review
By the time you finish reading this 70 new variants of malware will have been released. Are you prepared? With ESET Smart Security, that is a question you will never have to ask. ESET Smart Security prevents, detects and removes malware such as adware, bots, rootkits, spyware, trojans, viruses, worms and other Internet threats you face on the job, at home and everywhere your computer goes.
Product Code: 9039

In Stock

£69.49 ex VAT
(£83.39 inc. VAT)