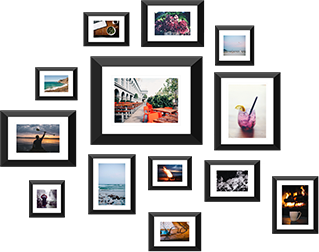 INSTANTPRO
PHOTO GALLERY PAGE
Effortlessly create an online photo gallery that will impress your friends, family & clients. You don't even need any technical knowledge, you supply the images and we'll do all the hard work for you!

Our gallery software is part of a service called InstantPro Website Builder which allows you to create an image gallery as part of an entire website of any size! InstantPro also allows you to create unlimited pages for your website using a variety of different page types including blog pages, guestbooks, custom forms and many more.
An InstantPro gallery page is a great way to display and share images and photographs. It doesn't matter whether you have five or 5,000 images, with the InstantPro Gallery page you can upload as many images as you like - it's totally unlimited!
Creating a custom photo or image gallery couldn't be simpler with InstantPro. All you need to do is upload your images to your InstantPro Site, choose what type of gallery you wish to create and you'll be up and running, it really is that simple to get started.
With your photos and images live on your gallery, visitors to your site will be able to browse through and view the images on your gallery page and leave their feedback.
Instantly Create Photo Albums
Unlimited Photo Uploads
Multiple Gallery Styles
Supports Multiple Image Formats Including Gifs
Create a Gallery In Minutes
Drag & Drop to Add Images
Optional Image Captions
Nothing to Download or Install
In-Depth Traffic Statistics
Photo Hosting Fees Included
Free UK-based Help & Support

---
Just £3.49 per month
(excluding VAT - charged quarterly) or totally free with any of Freeola's cheap broadband packages.

Money-back offer
We're sure you'll love InstantPro, but if you don't, we'll give you your money back! Find Out More.

---
How Does It Work?
Whether you're new to online galleries or a seasoned pro, it couldn't be easier for you to create your own professional and fully functional gallery page with Freeola's InstantPro Website Builder.
Simply upload the images that you wish to display on your gallery page (using our handy drag and drop file uploader), choose a gallery type and that's it - a stunning online photo or image gallery created in just a few minutes. If you wish to, you can also edit and reorder images, before adding captions and image descriptions.
The InstantPro gallery page is packed with settings and features that allow you to fully customise and personalise your online photo gallery. You can choose from a range of gallery styles including thumbnail based galleries or slideshows, before further customising the gallery colours, thumbnail images, slideshow transitions and more!
You'll also have access to in-depth online traffic statistics showing how many visitors and impressions your gallery has received and where they've been referred from. InstantPro Website Builder really is the complete website building package.
Want a professional way to display your images, photography, artwork or graphics online?
Showcase images, display photographs & share holiday snaps with InstantPro Website Builder.
Register a domain with GetDotted.com and get a one-page version of InstantPro free!
Pick

'n'

Mix

for even more impressive pages!
You can easily combine page types to create whole new pages! You can add multiple standard pages together to create different layouts, or add a guestbook and gallery together to get instant feedback on your photos! Mix and match page types to create your unique, personal website today, with InstantPro Website Builder.
---
---
A fully responsive website builder
Our website builder themes are mobile-responsive, meaning your site will look great on all devices! Making a mobile-friendly website has never been easier.
---
Just £3.49 per month
(excluding VAT - charged quarterly) or totally free with any of Freeola's cheap broadband packages.

Money-back offer
We're sure you'll love InstantPro, but if you don't, we'll give you your money back! Find Out More.

InstantPro Website Builder
InstantPro Website Builder - 100% Money-back Guarantee Offer
InstantPro is our fantastic service that lets you build and host your own full web site regardless of how much technical knowledge you have. It allows for simple one page web sites or full multimedia web sites, with a host of amazing features such as Blogs, Guest Books, Galleries, Hit Counters, Logo Creators and loads more benefits.
For just £3.49 + VAT per month you can have your own stunning web site to be proud of. In fact, we're so confident that you'll love the service, if you aren't entirely happy, we'll completely refund your money.
Simply sign-up and, if you no longer want to use the service, simply cancel your InstantPro subscription and let us know within 30 days of signing up by sending us an InstantPro Money Back Claim Form. You will then receive a full refund.
---
MONEY BACK OFFER RULES:
InstantPro Money-back Offer is limited to one per household, UK residents only.
To qualify for a full refund of your first InstantPro payment, you must cancel your InstantPro subscription (via the MyFreeola Control Panel) within 30 days of purchase and we must receive a correctly completed InstantPro Money-back Claim Form within 14 days of this cancellation date.
Any refunds made in respect of this offer will be paid to the credit or debit card used to pay for the service. Please allow up to 28 days for the refund to appear on your account.
Use of the InstantPro Website Designer is subject to the standard Freeola Terms & Conditions.
---
Happy Website Building!
The Freeola InstantPro Team.