from just
£24.99
ex vat. p/m
Keep your business running smoothly with
Business Broadband
Cheap Business Broadband: Better value than BT Business Broadband*
Cement your business's online presence with a Business Broadband Package from Freeola.com
Unbeatable broadband for businesses is now available with our specialist, business class internet services. Our business broadband bundles come complete with dedicated bandwidth, faster upload speeds, huge data usage caps - making this the best business broadband package for all internet activities, including Voice over IP calls, browsing the web, e-mail and more. If that wasn't enough, our office broadband packages are also accompanied by our range of unmatched Unlimited Free Services.
With all these great features and our no-minimum term contract there's no excuse not to give one of our cheap business broadband packages a try! Sign up today to get a dedicated, high speed internet connection with a specialist and reliable UK business broadband provider who understands your business's requirements.
---
Why choose Freeola Business Broadband?
All of our Business Broadband packages (ADSL and Fibre products) boast ultra reliable connections for your busy office, with dedicated bandwidth, fast connection speeds and loads of great free services included. During normal business hours these packages also benefit from greater priority over our home packages. Check your line and see how fast you can go with our Business Broadband today.
---
Features to save your business time & money!
Dedicated Bandwidth

Like low contention ratio, provides better performance at busier times.

Unlimited E-mail Addresses

As many e-mail addresses with unique mailboxes for everyone in the office.

Create Unlimited Websites

Build a web site of any size for your business, organisation, hobby or family!

Free Domain Name Hosting

Unlimited hosting for your unique domain name. Perfect for webmasters.

Free Static IP Address

Plus the option to purchase up to 16 extra static IP Addresses.

Premium Customer Support

Available by telephone, e-mail, fax and online. 7 days a week, UK-based.

Migrate Free of Charge

Switch your broadband to our Business Broadband absolutely free.

Ideal for VoIP Calls

Unlimited data allowances & more upstream for VoIP & Video Conferencing.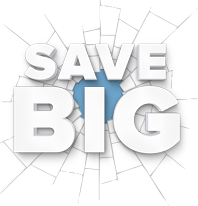 Save over £108* on broadband only line rental compared to BT
Unlike most ISPs, we don't force you to switch your phone line rental over to us. But if you fancy broadband-only line rental you can save over £108 per year with no contract tie in, compared to the UK's largest internet service provider.
Save £100s with our business broadband deals
Freeola have put together an all-inclusive package that is absolutely perfect for small businesses. Freeola's services, such as unlimited e-mail addresses, unlimited website and e-mail hosting and the InstantPro Website Builder are FREE with any business broadband connection. This means that everything you need to get your business online comes in one complete package (all easily controlled via MyFreeola) from only £24.99p/m ex VAT.
Upon joining Freeola, you can also benefit from unlimited mailboxes and even free website promotion! Save hundreds on website design, hosting, e-mail servers, and IT Specialists by doing it all yourself with our easy-to-use services. Sign up from £24.99 ex VAT or Find Out More.
---
More information on our Business Broadband Tariffs
What is Freeola Business Broadband?
Freeola Business Broadband is our dedicated range of business ADSL and Fibre broadband services, both offering dedicated bandwidth, higher upload speeds and our free unlimited services. Speeds and conditions will vary based on the broadband package you choose - for the fastest speeds (up to 76Mbps), take a look at our Fibre Business Broadband. Or, if you want a want a flexible, rolling contract, ADSL Business Broadband might be best for you.
Can I get business broadband in my area?
Fibre to the Cabinet (FTTC) broad band is now available across large parts of the UK, which means they will support up to 76Mbps connection speed. If you do not require superfast fibre business broadband then most telephone exchanges are now ADSL2+ enabled, which means they will support up to 24Mbps connection speeds, however it's quite common for some exchanges to still provide speeds of up to 8Mbps. Try our speed and availability checker to see what Freeola Business Broadband packages are available in your area.
Are Freeola's business broadband packages unlimited?
With our Freeola ADSL Business broadband tariffs we offer genuinely unlimited downloads and data usage during off-peak hours (every weekday from 7pm until 7am, and all weekend long) so you're free to download as much as you like during these hours. During peak times (7am - 7pm weekdays) we offer gigantic data allowances which should be more than sufficient for the average home, small-and-medium sized business users. If you regularly exceed your data usage allowance, you can regrade your broadband package quickly and easily from your MyFreeola Control Panel. Find out more about data allowances for Freeola ADSL Business broadband.
Our Freeola Fibre Business Broad band packages give you unlimited data usage for hassle-free internet access with lightning fast speeds. With no download limit, our Fibre Business Broadband is perfect for all internet activities, including Voice over IP calls, browsing, e-mail and more. Plus, you don't need to to keep an eye on your data usage or worry about unexpected data charges.
Note: Use of Freeola Services are subject to our terms and conditions which are designed to protect the quality of services for all users.
How fast is Business Broadband with Freeola?
Freeola Business Broadband packages offer high speed internet access, and you can expect speeds of up to 76Mbps (with a theoretical maximum of up to 80Mbps) on our Fibre broadband tariffs and up to 17Mbps (with a theoretical maximum of up to 24Mbps) on all our other packages. The speed of your connection (bandwidth) is based on a few things, such as the quality of your line and the distance from your fibre cabinet or local exchange. Unlike many other providers, we'll tell you exactly what speed your connection is expected to be before you even sign-up. Why not try our broadband speed checker to see how fast you can go?
Are your Business Broadband packages wireless compatible.
Yes, all Freeola Business Broadband packages are fully compatible with wireless networking! When you sign-up to Freeola Business Broadband, you'll be offered the option to add the wireless equipment as a simple upgrade. And if you buy Wireless equipment when ordering Freeola Business Broadband we'll pre-configure your chosen router to connect straight from the box. Check out our Wireless Broadband and Wireless Networking Guide for more.
What equipment do I need for Business Broadband?
To use our ADSL Business Broad band, all you need is a BT phone line, ADSL router and an ADSL microfilter. To use our Fibre Business Broadband all you need is a BT phone line, fibre broadband router and a VDSL microfilter. We provide discounted, pre-configured routers with all of our broadband packages so all you need to do is plug it in to get online.
What is the contract length for Business Broadband?
The length of contract for our business broadband varies depending on the package you choose. Our ADSL Business Broadband packages have short-term rolling contracts to keep things flexible for you and your business. There is absolutely no minimum-term contract whatsoever with our ADSL Business Broadband service. Find out more about our Short-Term and No-Contract Broadband. If you wish to cancel or migrate Freeola Business broadband, all we ask is 30 days notice to end your Freeola Broadband subscription. We only charge you a fee for terminating a service if we are charged by our suppliers. You can migrate to a different ISP free-of-charge, whereas broadband terminations incur a change. The fee for terminating an ADSL business broadband connection is £37.34 (inc. VAT).
Our Fibre broadband packages operate on a short 12 month contract as opposed to the more common 18 or 24 month contracts found with most other fibre broadband providers. Termination of your Freeola Fibre Broadband will incur a charge of £37.34 (inc. VAT). If the service is ceased or migrated away whilst still being in the initial 12 month contract period you will also be required to pay the remaining service contract term.
How do I get business broadband with Freeola?
To sign up for Freeola Business Broadband, first you need to check your line using our speed and availability checker. Once the checker has returned the results for your line, you can begin the sign-up process.
Can I switch to business broadband from my current ISP?
If you already have broadband on your BT line from another provider (e.g. BT, Sky, AOL, etc.), you can switch to any of Freeola's great value broadband tariffs for free. The process takes 10 - 15 working days, and is usually seamless so that your broadband will continue working throughout the switching process.
Be sure not to cancel your connection with your current provider (otherwise your broadband access will cease until re-activation). To migrate to Freeola simply use our speed and availability checker. Once you've completed completed the sign-up process, we'll take care of the rest. You can find out more on our Switch to us free page.
What about free features, extras and services?
Do I need to change my telephone line-rental to Freeola?
No. Unlike a lot of internet service providers who require you to sign-up for their line-rental offering when signing up for broadband, we do not. You can keep your existing line or you can take advantage of our Broadband Only Line-Rental. Find out more about our cheap line rental deals.
Note: If you currently have broadband with an LLU (Local Loop Unbundled) provider such as Sky or TalkTalk, and you wish to sign-up for a Freeola broadband package, you will need to switch your line to our Broadband Only Line-Rental or another BT-based landline provider.
Is Freeola Business Broadband really better value?*
Absolutely. Unlike many of the bigger business broadband providers, we don't hide costs to try and make our products appear cheaper for the quick sell.
When you factor in our free (ADSL) or discounted (Fibre) broadband activation, cheap broadband-only line rental (a saving of over £80 compared to BT line rental), unlimited data usage, free static IP addresses and flexible short-term and no-contract broadband packages, the savings are massive.
On top of already huge savings compared to BT Business Broadband, you'll get our free unlimited email, website and hosting services and 24/7 access to our dedicated, friendly and free UK-based customer service team to help with any problems or issues you may encounter there really is no comparison. When it comes to providing a reliable internet service for your enterprise, we mean business.
Usage Allowances Explained
The Freeola Family & Business broadband packages include huge data allowances to use during peak hours (weekdays between 7am and 7pm), which should be more than enough for most users. Even the 40GB allowance on the smaller Family package is enough to browse over 100,000 web pages (approx. 320kB each), send enormous amounts of e-mails, loads of music listening and online TV streaming for the whole family.
On top of that, every single evening (from 7pm til 7am) and ALL weekend allow for genuinely unlimited data allowances, which is in stark contrast to some of the 'unlimited' deals you may find elsewhere (with fair usage policies that restrict your usage much more than you'd think). That means you get truly unlimited downloads for over 64% of the month!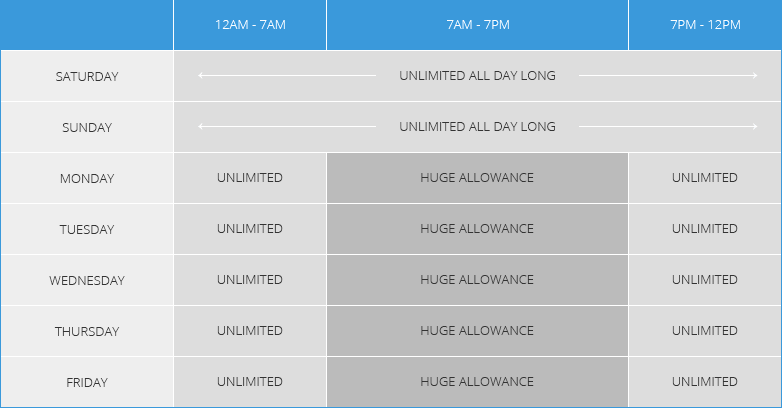 Choose between 40GB, 60GB, 80GB or a whopping 120GB data usage with your Freeola Broadband package. This data usage allowance represents the amount of data you upload and download each month during peak weekday times. If you do happen to go over your limit, overuse is charged at just 72p per GB, but you can keep an eye on how much you're using at all times within your MyFreeola account.