Go Even Faster with
ADSL2+ broadband
Take advantage of ADSL2+ and upgrade to faster internet speeds.
Find out everything you need to know about ADSL2+ Broadband and how it can benefit you!
Check My Line
What is ADSL2+ Broadband?
ADSL is the technology used to connect you to the internet via copper telephone lines. ADSL2+ is a newer protocol which uses up to double the bandwidth frequencies of the earlier ADSL protocol, with higher frequencies used for faster data transmission over short distances, allowing for much faster broadband speeds!
Along with the BT 21CN upgrade (which is nearing completion as of early 2015), the ADSL2+ update provides much faster speeds (theoretically up to 3x faster than standard ADSL).
What are the benefits of ADSL2+ Broadband?
ADSL2+ offers faster connection speeds than the original ADSL technology. This means that you can download files quicker and stream higher-quality music and videos! If you currently receive low speeds on ADSL (e.g. if you live a long way from your local telephone exchange) then you may benefit from faster speeds with ADSL2+.
Will ADSL 2+ Broadband benefit me?
ADSL2+ still works very much the same way as ADSL, so your speeds will still depend on many factors such as:
The distance from your home to your local telephone exchange.
Quality of the copper phone line.
Quality of cabling and equipment.
Demand at peak/off-peak time (traffic).
Bad weather or EMI (Electromagnetic Interference)
Due to there being so many different possible influences on your connection and speeds it is possible that you experience no changes at all, although the vast majority of people will at least receive a more stable connection, if not an increase in download speeds.
What speeds can I expect from ADSL2+?
For the best performance, customers must use an ADSL2+ capable router/modem and have filters installed on all telephone outlets. The graph below indicates what speeds you are likely to receive, depending on how far away you are from your local telephone exchange.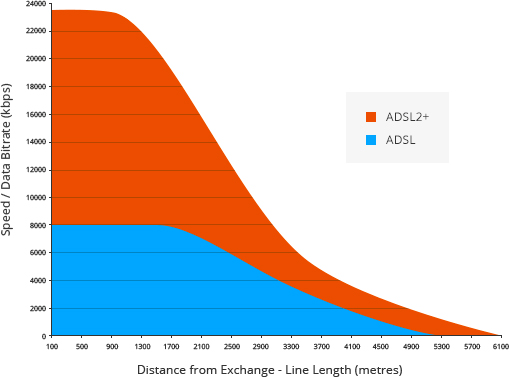 Your exact speeds will depend on a number of factors including quality of cabling and equipment as well as the distance from your home to the local telephone exchange.
Customers that live more than 3500 metres (3.5km) from the exchange may not notice any significant increase in speeds on ADSL2+. However, these customers will experience a more stable and reliable connection if using an ADSL2+ compatible equipment.
Can I see how far I am from the local telephone exchange?
There is a very handy tool for checking the distance between you and your exchange - SamKnows Availability Checker . Simply enter your postcode and then click 'locality' - the information will then appear on screen, along with a small visual map.
How and when can I upgrade to ADSL2+ Broadband?
Chances are you can probably already get ADSL2+ Broadband. As of summer 2013 BT have stated that they would be enabling additional telephone exchanges bringing the overall coverage to over 92% (over 22.5 million premises) of the country. This project is known as the 'BT 21CN rollout' of ADSL2+. When your local telephone exchange is upgraded (chances are it has been already) you will be seamlessly transferred across to ADSL2+ with faster internet speeds. To find out when your local exchange is due for the upgrade, please use our broadband line speed checker.
What is the '21 CN' (21st Century Network)?
21CN stands for '21st Century Network' and is the name of the national 'network upgrade' project, which is an ADSL2+ upgrade plan. This upgrade plan which features an entire upgrade of all telephone / internet exchanges across the country has been ongoing since the beginning of 2008 and now as of early 2014 BT have upgraded over 90% of the UK's telephone exchanges.
The 21CN rollout plan has brought many advantages to broadband users, along with faster ADSL2+ broadband speeds. It has opened up many new capabilities enabling BT's infrastructure for future growth. Recent developments such as on-demand, interactive TV and new technology to improve mobile access, are two of many reasons for the 21st Century Network upgrade. Find out more in-depth information on BT 21CN .
Do I need any new equipment for ADSL2+ Broadband?
It is most likely that you will need an ADSL2+ compatible router/modem to be able to fully utilise the larger speeds. Without an ADSL2+ compatible router/modem, you will only receive ADSL speeds of up to 8Mb and not benefit from the faster speeds available with ADSL2+. Chances are if you've purchased your router in the last few years it will be ADSL2+ compatible.
Some manufacturers, however, release firmware (software) updates for their older routers/modems to allow compatibility for the ADSL2+ upgrade. So be sure to check with your router/modem manufacturer's website to see if any updates are available for your model. For the best performance though, we recommend that you purchase a router or modem that is designed to support ADSL2+.
Find cheap ADSL2+ compatible routers at our Broadband Equipment Shop!
If your router/modem already supports ADSL2+, then you may need to reconfigure it to use ADSL2+ instead of ADSL - if your line has recently been upgraded to the 21CN. This can usually be done by simply turning it off and then on again. Please consult your router/modem's instruction manual or manufacturer for details on how to do this. Aside from this, no other equipment is necessary. You will be seamlessly transferred to the 21CN when the BT rollout has been completed in your local area. Check to see if your local exchange has been ADSL2+ enabled already.
Where can I get faster broadband?
Right here! Freeola offers fast, reliable ADSL2+ Broadband with hundreds of pounds worth of extra features.
Try out Freeola Unlimited Broadband today free for the first month. If you run a business, why not try our Business Broadband packages? Freeola will automatically transfer you across to 21CN when the ADSL2+ upgrade has taken place at your local exchange.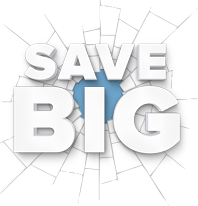 Save over £108* on broadband only line rental compared to BT
Unlike most ISPs, we don't force you to switch your phone line rental over to us. But if you fancy broadband-only line rental you can save over £108 per year with no contract tie in, compared to the UK's largest internet service provider.