Create a mobile-friendly
website in minutes with GoMobi
Build a professional looking mobile website in no time
Try for free with a 30 day trial, then only £2 per month (ex VAT) if you decide to continue
---
What is GoMobi?
Already have a website, and need a mobile version? GoMobi automatically creates a mobile website for you based on your main website, or if you prefer, it allows you to easily build a mobile site from scratch.
Don't already have a website? You can create a fully responsive, mobile friendly website with our really easy InstantPro Website Builder instead.
Rank higher in Mobile Google searches.
Create a mobile site quickly and easily.
Complement your desktop website.
No obligation 30 day free trial.
Customisable fonts, colours and styles.
Easy Facebook and Twitter integration.
---
---
Boost your Google rank for mobile devices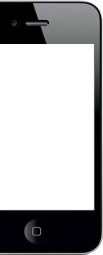 Google has changed. They now give priority to mobile-friendly sites when people search on mobile devices, so it's time to set up a mobile site and boost your Google rank. Once you're done, Google will display a 'mobile-friendly' badge next to your site.
So now that your site's ranking higher in Google, the important part starts - connecting with your visitors. GoMobi gives a more tailored experience to your visitors, allowing them to read content clearly, navigate easily and ultimately have a better experience on your site.
Essential benefits of having a mobile website
The millions of people browsing the internet on their phone or tablet is ever increasing, so there are loads of benefits to creating a mobile site to cater to them.
GoMobi
Desktop Website
GoMobi Website
Tailored Experience
Desktop focussed
Mobile focussed
Google Mobile Search
Lower in results
Higher in results
Legibility
Difficult to read
Easy to read
Navigation
Hard to find pages
Clear page links
Page Loading Times
Slow loading times
Very fast page loads
Track Mobile Traffic
Track all traffic
Track mobile traffic
---
Full 30 day completely free trial
Freeola are offering a 30 day free trial of GoMobi, so you can try out the mobile website builder and see the results for yourself before deciding whether or not to subscribe at £2 per month (ex VAT). There is no commitment with the trial and no card details are required unless you upgrade to a full subscription.
Quick and easy website creation
Building a site with GoMobi takes no time at all, and after a few simple steps you can end up with a fully featured mobile site. From there you can make tweaks, add new pages, galleries, video, Facebook, Twitter or a whole host of other customisations using the easy online builder.
If you need a full website that can cater to desktop and mobile visitors, we also offer InstantPro Website Builder, which is a full, easy to use website builder, that creates websites which automatically fit to the size of your visitor's screen.
Personalise your site's appearance
Fully customise the look of your mobile site with a large selection of modern, professional templates available within GoMobi. Then for even more control, you can customise elements within the template further, like fine-tuning the colour palette, choosing your favourite icon set or uploading a custom background.
Easy content management and page creation
With loads of built-in page types including contact pages, find us pages, gallery pages and news feeds, you can add many advanced features to your mobile website very simply. For other pages GoMobi provides an easy to use editor that allows you to add text, images and video to create the page in a friendly 'What You See Is What You Get' environment.
Automatic device detection
GoMobi can detect the size of the browser on your visitor's device and will automatically adjust your site so that the optimum viewport is shown. This is ideal for visitors using any size of phone or tablet. You can also generate a codeblock which can be added to your full website to send any mobile visitors directly to the mobile site automatically.
Facebook, Twitter and Google+ integration
Help visitors find you on social media by adding Facebook, Twitter and Google+ to your site. All you need to do is provide the GoMobi builder with your username or page ID for the service and the rest will be done for you.