Broadband Line
Speed Check »
See how fast your broadband could be with Freeola
and when your local exchange will be upgraded to ADSL2+
Please enter your full telephone number: e.g. 01234 567890
This page allows you to check your phone line for availability of broadband on your telephone number or, if you are already a Freeola Broadband Internet customer, test the details of your line, local telephone exchange and expected broadband speed available on your line.
BT are currently upgrading the telephone exchanges across the UK to support ADSL2+, which can provide speeds of up to 24Mb! Check when your local exchange is due to be upgraded by entering your phone number in to the broadband line checker above to test the speed of your broadband line.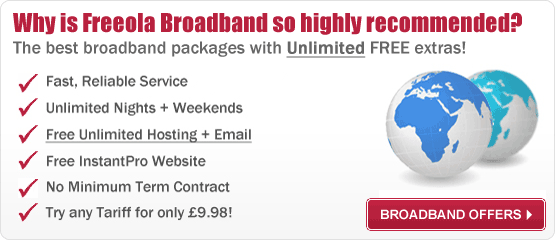 About Maximum Line Speeds...
Our fast, reliable
Broadband
tariffs are based on superior technology and generally offer the highest speeds possible on an ADSL2+ BT telephone line. The broadband speed available will depend on a number of factors that determine your line quality (including the distance to your local telephone exchange) and please note that you will only be eligible for ADSL2+ broadband when BT upgrades your local exchange. Until this upgrade, you will receive the maximum speed your line can handle on ADSL technology. Type your telephone number into the broadband speed checker above to find out when your telephone/internet exchange is due for an update. Actual broadband line speed will be determined during the first 10 days of use, after which time the highest stable rate possible will be set. For more about Freeola's ADSL2+ Broadband tariffs, please
click here
.
Essential Information...
Freeola Broadband is available to customers with a BT line connected to a broadband-enabled exchange. When you sign up, a line speed test will take place on your telephone line to see if it's compatible and determine the best speed we can offer you. Activation or migration from another internet service provider normally takes 5-10 working days. There is no minimum term contract with Freeola Broadband connections.
All Freeola services are subject to our terms and conditions.